Perfect Green
Bespoke 2020

Brief create a unique ring in yellow gold with a specific, vibrant light green tourmaline
(painting by Martyn Dukes, Garage in Mauvezin, Gers, France)

This ring commission was all about colour. And quite understandably so as the client is a painter (a very good painter and a friend too!).
The first time we discussed the ring we established the proportions and cut of the gem, a 10 x 8mm loaf cabochon cut. But most importantly, Martyn identified a vibrant, pale green faceted tourmaline from our gem boxes as a colour sample.
Perfect colour, wrong cut.
We then proceeded to search for the perfect tourmaline.
With no luck.
All beautiful unique gems but none of that specific spring green colour. After months of frustratingly unsuccessful research, it dawned on us that the original sample had led us astray.
The colour we were looking for was peridot not a tourmaline, and within weeks we found the material (peridot) and had cut to size by our trusted lapidary in Milan.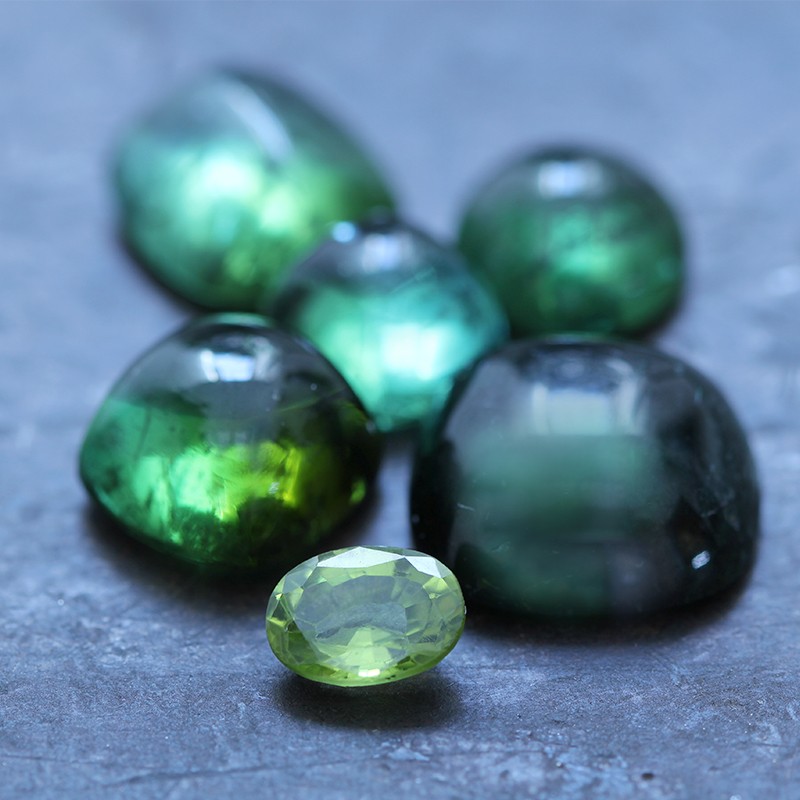 We source our gems from 3 qualified independent gemologists, selected for their competence and ethical trading. They all spend a good part of the year travelling, selecting stones from on site mines in countries around the world (Indonesia, Brazil, Thailand ecc) and periodically bring us their findings to chose from.
They know the kind of stones that we like best: unique cuts, unusual colours, one off colours. When we need something specific we forward them the parameters (colour, shape, cut, cost) and they source it for us.
To see Martyn's beautiful work martyndukes.squarespace.com