About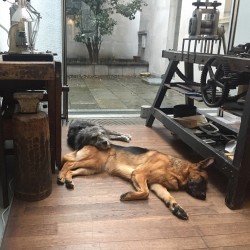 Mario Roca and Fiona Wood, partners in life and work, co founded RocaWood in 2008.
The sartorial, bespoke designed and crafted jewelry that we make in our atelier are the sum of our parts: designer and artist, goldsmith and technician.
Keep reading to know more.
Read more
Our beginnings couldn't have been more different.
Mario was born in Ascoli Satriano, Puglia in 1965 and moved with his family to Milan at the age of 5. Whilst completing his high school at evening classes, he began working as an apprentice with a master jeweler, learning the secrets of his art the only way really viable: day by day, slowly, by osmosis.
He discovered a profession well suited to his nature: patient, precise, mathematical.
A decade later, master of his trade, he established an atelier workshop creating one off fine jewelry commissions for private clients.This led to collaborations with niche fine jewelry houses and he became a model maker, translating designs into three dimensional prototypes ready for production.
I, Fiona, was born in Liverpool, UK in 1969 and grew up on the River Dee estuary close to Liverpool. I moved to Paris in 1989, and finally chose Italy as my definitive home in 1995.
After completing a jewelry making course in Paris I worked for several years as an artist creating one off sculptural pieces of jewelry, exhibiting in Milan, Paris and London.
This led spontaneously to collaborations and consulting contracts with jewelry brands.
In 2011 I was appointed Head of the jewelry design department at the IED University in Milan, where I remained for 4 years.
I have been dedicated solely to RocaWood since 2015.
We met at the workbench, I as a designer, he as a model maker, and the professional complicity has always been central. One house, two dogs, four cats and a business later, we can honestly say that we have embraced the challenge of sharing our lives together!

It felt audacious to set up a jewelry business in 2008, in the midst of a global crisis, but our intuition was solid. We wanted to get back to basics, back to having a one to one rapport with our clients and with the jewelry we make. It is a complex and demanding composite of listening, organizing and creating.
It may be hard work at times, and the expectations placed on the work we create are often high voltage, but we both know how lucky we are to be able to create jewelry together.
That is what makes our working day seem worthwhile and fulfilling.
The creative process
The way we approch the design process varies greatly on if we are making a personal work (Collections) or a bespoken commissioned piece (Jewelry tales).




The pieces in Collections are personal and intimate works.
These sculpted three dimensional designs span almost three decades, and we have hundreds of shapes and designs in our archive patiently waiting for their moment!
The inspiration can be multi fold and varied. It is always a creative response to something that has touched us in our every day lives: a conversation, a piece of music, a phrase or a twig on a bush. Anything will do!
This jewelry is the fleshing out of an emotion, translating a 'feeling' into a sculpted form. Nature informs. The shapes are sculpted directly in the carving wax specific for jewelry making, and then cast using the lost wax process. The wax shape becomes immersed in plaster and molten metal is injected, melting the wax and filling the exact shape the wax previously occupied. I rarely design on paper, but I often draw the shapes afterwards as a way of getting to know them fully! These works are fruit of a visceral, intuitive approach, more artist than designer.
The creative process for the works in Jewelry tales couldn't be more different.
These are bespoken works, with a specific intention on behalf of the customer.
Our job in this case is to first and foremost listen and translate your wishes into a proposal.
In the case of restyling heritage jewelry we can analyze together the possible elements or stones that you wish to keep and modernize. We then provide some quick sketches a range of approximate quotes to understand in which direction to proceed with materials and craftsmanship.
The initial consultation and sketches are non binding.
If you don't proceed with the commission, they remain in our archive for our future reference.
If you do decide to proceed, we require a non refundable deposit payment depending on the type of design.
We proceed to design a proposal and once the design concept is fine tuned and approved, we provide a specific quote and time line for delivery.
This sartorial approach is an exciting and surprising journey. It requires a particular participation on your behalf, but the emotion of owning or receiving a jewel that you have in part 'designed' is unique in every sense.
Craftsmanship

Each and every piece of our jewelry is hand made by Mario and our small team of in-house goldsmiths in our atelier in Como.
All phases of creation are meticulously fabricated by hand. There are no short cuts to making beautiful jewelry. Even the simplest of pieces is the sum of a multitude of technical skills. Thanks to Mario's training in the craft of fine jewelry making, we vaunt the technical expertise to take on pretty much any project.